Pilates/TRX
This class is taught by: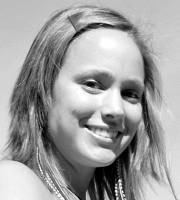 Lauryn Marino has taught Pilates since 2010. She graduated from Western Washington University that June with an interdisciplinary degree she designed through the Fairhaven College. Her studies, originally inspired by art therapy, eventually evolved into exploring the relationship between creativity and health. Lauryn graduated from Port Townsend School of Massage in 2012 and opened her office in Core Kinetics in January 2013. In her spare time, she enjoys paddle boarding, playing piano and ukulele, biking, photography, and cooking.
She also returned from a big trip in March 2017! With her partner, she drove across the northern USA in a 1978 VW bus (named Greg), spent two weeks in Senegal, three weeks on a farm in Spain, and about five weeks in Italy, two of which were on a farm in Sicily. Upon returning to the States, they drove their bus back home through the southern States.
See pictures on instragram:gregthevan
To book a massage, please visit laurynmarino.schedulista.com.
Work hard, with a focus on alignment and proper body positioning, in this fusion of Pilates and TRX Suspension Training. Class is limited to 7 participants, and reservations are strongly suggested.
Upcoming classes: