Shannon Tallman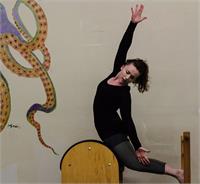 Shannon came to Bellingham to persue a BFA in dance and performance art from Western Washington University. It was here that her lifelong passion for movement and dance led her to Pilates. In 2009 she took her first Pilates training and was hooked! Upon graduating in 2011 she began teaching at Core Kinetics Pilates where she completed the Balanced Body Training Program. Shannon currently teaches Pilates at The Bellingham Athletic Club and Whatcom Community College. She also enjoys teaching both Pilates and dance at Western Washington University. She currently manages Core Kinetics Pilates in Mount Vernon and is so happy to be sharing her love for movement with the Core Kinetics community!
Shannon Tallman instructs the following:
A flowing reformer-based workout class which focuses on learning foundational Pilates principles. Limited to 6 participants, reservations required. A private orientation is required before beginning class.




A mat class for clients of all levels of Pilates
experience, who are not experiencing pain or musculo-skeletal issues. This class will utilize the mat and small props such as rings, balls and bands, focusing on perfecting Pilates technique while challenging the strength and mobility of the entire body.